Spanish Philately Discussion Forum
Welcome Spanish philatelists! Please feel free to post your questions, opinions, discoveries, favorite stamps or covers, or anything else related to Spanish philately or postal history. This board is for everyone that enjoys discussing stamps and related topics, so feel free to invite others. The more the merrier!
This Spanish philately discussion forum is now being sponsored by the Spanish Philatelic Society (SPS)
SPS News and Events
SPS Auction #59 Closing Date March 5, 2016

Auction #59 Bid Sheet, Lot Descriptions and Pictures


For an application to join the SPS you can write to:
Jerry Wells
P.O. Box 864138
Plano, Texas 75086
USA
---
Forum Entries
---
Jul 13, 2016
Jaume
206 Old Church Rd
Dear all, It was a real pleasure to meet the SPS members in person at the NY world stamp show - Larry, Kevin, Brian, Fred - and to see some old aquaintances - Jerry, John Barone - amongst a few other local collectors and friends and some top dealers from Spain. It was a great show and a once in a decade experience (looking forward to Boston 2026!). Larry is being quite modest - he not only exhibited a unique assembly of the postal history of the foreign offices in Morocco but he also was an active volunteer for the show. Finally a huge thank you to Brian for his invitation to speak at the meeting, it was a fantastic experience to present to fellow collectors and do it in front of my kids!

Switching gears a bit, Afinet has just kicked off their summer virtual exhibit which will run until the end of August. 43 collections in all, covering classical period, civil war, colonies, topicals and foreign countries. Collections can be viewed at: www.afinet.org

Cheers, Jaume





Jun 27, 2016
Jean-Marc Bonnard <jbonnard@laposte.net

Hi everybody. I just receive a cover from Madrid with a very strange mark "Censurada' in black (33 * 8 mm) not found in Heller. Any idea ?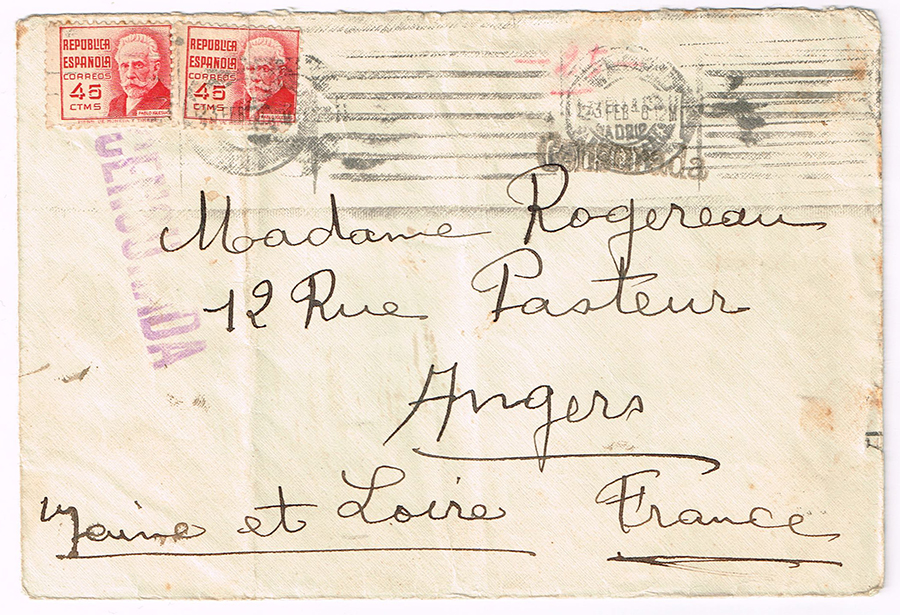 http://jmbonn.free.fr/pict/Madrid.jpg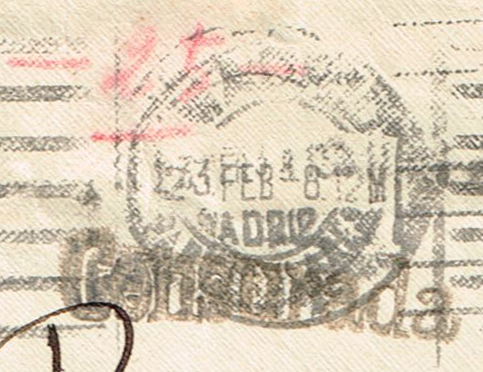 http://jmbonn.free.fr/pict/Madrid33x8.jpg





Jun 03, 2016
larry gardner <l.d.gardner@juno.com
PO Box 362
Wow!!!!!!! Thank you everyone for those attending NY2016. Jaume Balsels gave a wonderful power point presentation on the Spanish Classical Period. There were 15 people in attendance at this wonderful venue. The night before we had a wonderful dinner at the Spain retaraunt and bar. Beleive me, a good time was had by all. I hope we are able to keep up with this type of turnout for our annual meeting. Thank you one and all. Larry Gardner





May 25, 2016
larry gardner <l.d.gardner@juno.com
PO Box 362
A reminder to all, there will be a meeting of our society at the New York show SUNDAY MAY 29 IN MEETING ROOM 1E19.I hope to see many of us there. Brian Knight will be making a presentation, so again we will see you there. Larry